In one of his pics for Interview Magazine's April issue, Zac Efron is photographed frolicking with n@ked model Edita Vilkeviciute in the mud.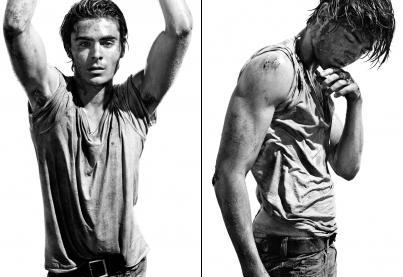 Making a shift from small to big screen by taking in more mature roles in some movies, Zac Efron once again channels his mature side, getting down and dirty with a n@ked woman for photo shoots to be featured in Interview Magazine's April edition. The issue won't hit the newsstands until next Tuesday, March 24, but Zac's snaps, one of which shows him frolicking with n@ked model Edita Vilkeviciute in the mud, have been making their rounds all over the web.
The pic shows n@ked Edita posing for the camera on top of Zac's body. Zac, meanwhile, is photographed putting his right hand around Edita's n@ked body.
Asked about the raunchy snap, Zac revealed: "I think it went pretty cool."
"There was, like, a giant sandbox in the middle of a studio, and then I just got to roll around in the dirt for a couple of hours. I got pretty dirty by the end of it, so that was fun," Zac explained to "Milk" director Gus Van Sant, who interviews him for the magazine.
The "High School Musical" heartthrob also claims that the photo shoot session done with photographer Mikael Jansson was "definitely different from anything" he had ever done before.
In further question and answer session with Interview, Zac Efron talks about him invading the big screen and starring in upcoming movies, like "17 Again" and "Me and Orson Welles".
On period piece, Me and Orson Welles: "Rick [Richard Linklater] was brilliant, because he found this great theater on the Isle of Man, which, after a little bit of work, looked a whole lot like the Mercury Theatre did in 1937. We took a beautiful theater and made it look rusty and old and dusty, and, once we filled it with extras dressed in 1930s attire, the place was very believable. It even smelled like an old theater. It was pretty neat because we were basically stuck there—you know, we couldn't leave. There was nowhere to go on the Isle of Man. So we lived in that theater for several weeks. It was fun and exciting, but it was also kind of maddening. I went a little bit insane. There was always a small group of onlookers out in front of the theater while we were filming. It was pretty funny."
On playing a 30-year-old guy in 17 Again: "Well, I couldn't really relate to the character in a lot of ways, so I didn't have that to work from. I worked a lot with Burr [Steers], the director, and Matthew [Perry], and just tried to think in terms of an older guy. He's experienced life. He's been through a lot that I haven't been through yet. So it was a big change from High School Musical. You know, I've fallen in love, and I've not known what I want to do with my own future—I still don't know. But I've never had a daughter who I'm looking out for. I've never been proud of my son. I've never gotten a divorce. It was interesting trying to figure that out. It was definitely a change of pace. And it was great working with Burr, because he's got this huge imagination, and this sense of people—not what they seem to be, or what they're defined to be, or what they want to appear to be, but as they actually are."
On furniture shopping for his new house: "I'm looking at some furniture, because I just got a new place, so I'm figuring out if I want this desk. I'm sitting at it right now. It's a vintage Herman Miller desk from, like, 1940-something. I don't know . . . I'm just deciding if I'm going to want it in my house, or if I'm just going to completely wreck it. [laughs] Herman Miller's stuff is really, really modern, but they have some pretty brilliant designs. [Ed note: Herman Miller is credited with inventing the office cubicle.] I'm sitting at this desk, and it's the most well-built thing I've ever sat at . . . It's a beautiful piece. It's got this amazing wood grain that I've never seen in any piece of furniture. It's also a little pricey. It's at my house. I'm sitting at it right now. I just bought this place. It's not big or anything, but it's a pretty unique space. It's very modern, very clean, very simple. It's got concrete floors so I can't screw it up. I can skateboard inside the house… You know, all the essentials are there."
He, moreover, also addresses on the paparazzi who always follow him.