Actress Zooey Deschanel is ready to walk down the aisle. The "Yes Man" starlet is happily engaged to Death Cab for Cutie's front man Ben Gibbard, according to a report.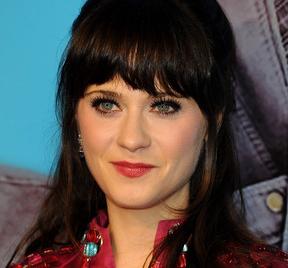 A source close to the couple has confirmed that Zooey and Ben got engaged before the holidays. The source revealed that the pair are "so thrilled," saying: "Zooey was swept off her feet, and Ben is so excited."
Recently, In Touch reported that Zooey Deschanel was engaged to a bass guitarist for AFI, Hunter Burgan. But the report was false because the 28-year-old actress is actually engaged to another musician, Ben Gibbard.
In addition to her roles in films like "Elf" and "Yes Man," Deschanel fronts the critically lauded She & Him duo with singer/songwriter M. Ward. Their debut album, Volume One, was featured on several 2008 "Best Of" lists — including ours.
Deschanel had previously dated actor/musician Jason Schwartzman and Mickey Madden from Maroon Five. Various Web sites are reporting that the couple have been dating for almost a year, and they shared the stage together — dueting on a cover of the Everly Brothers' "Dream" — at an Obama fundraiser in August.
Deschanel's She & Him released their debut album on indie stalwart Merge Records earlier this year. Gibbard's Death Cab released a string of albums on tiny Barsuk Records from 1998-2004 (not to mention the ultra-successful Postal Service album Give Up on Sub Pop in '03) until making the leap to the majors with 2005's Plans. In May, DCFC's Narrow Stairs debuted at #1 on the Billboard albums chart.
Comments
comments