Hayden Panettiere seems to be undecided voter who expects to be personally wooed by political candidates.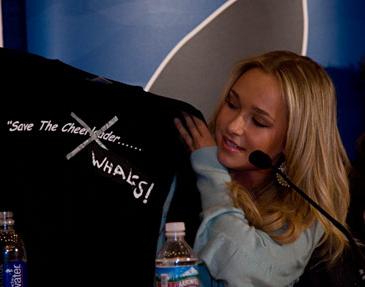 It was reported that the 18-year-old "Heroes" star has revealed that she was "not yet prepared to say" which candidate she is supporting.
The actress said, "I had a conversation with Barack Obama. I'm waiting to hear from Hillary Clinton."
Although the teen star is still undecided with her political candidate, one thing is definitely decisive issue for her: Saving the whales.
When the actress attended a February 1 dinner with Chelsea Clinton, a source said, "Hayden made it clear to Chelsea she'll vote for whoever will help save the whales."
The teen star also previously accused entertainment magazine of reporting "inaccuracies" about her relationship with Milo Ventimiglia, 30. She previously said, "You guys say untrue things. I'm not living with him. I'm not pregnant. There is no engagement."
But it was claimed that the said magazine never reported anything of the sort.