Chris Brown has been doing more in Miami than reconciling with Rihanna. He's been recording.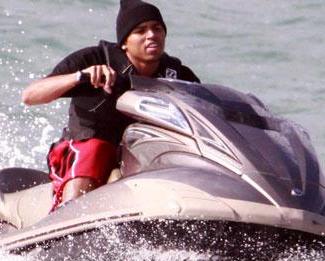 In addition to riding a jet ski daily in the waters behind Diddy's manse, where he has been trying to patch things up with his girlfriend following their Grammys eve blowup, Brown has been laying down tracks for a new album.
Brown, 19, has been in Miami for about a week and has been recording late at night at Miami's famed Hit Factory studio. There has been no sign of Rihanna, 21, at any of the sessions.
Days after their reunion in Miami Beach, Chris Brown and Rihanna are "staying close to home" together, says a source.
Meanwhile, despite reports by People and Extra, Brown was not out partying solo Saturday.
Those outlets were among many that claimed Brown was kicking it up in South Beach with Young Jeezy, Reggie Bush and Khloe Kardashian (sister of Bush's girlfriend, Kim) but it turned out that Reggie's best friend looks just like Chris Brown.