Former "American Idol" contestants have been dropped from their record labels Blake Lewis, Katharine McPhee, Taylor Hicks, and Ruben Studdard.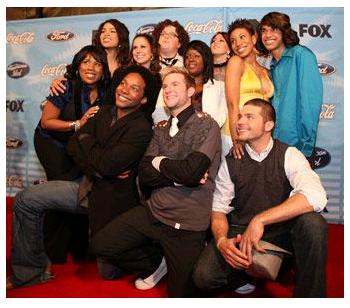 The good news is that Ruben Studdard is going to be getting married to Surata Zuri McCants this weekend.
Melinda Dolittle performed on NBC's 'Today Show' Wedding and sang for the newlyweds. It was nice to see her performing.
Jordin Sparks just released her new single "No Air." This song has been climbing the charts quickly. "No Air" has Chris Brown performing with her. The official YouTube Video got 27,727,539 views at the time of this writing! Jordin Sparks may still prove herself worthy of winning last season's "American Idol" after all.
David Archuleta the runner-up this year has signed his record deal and is working on his debut album. The 19 Recordings/Jive Records signed him earlier this month and the label is managed by creator Simon Fuller.
Simon Cowell is producing a film called "One Chance", which is described as being a biopic of the amateur opera singer Paul Potts. Potts was on the British version of 'American Idol' and went on to win the title and have become somewhat notable with his music.
David Cook, winner of this season's "American Idol" performed at the NBA Finals. "American Idol" is being sued by the American Federation of Musicians for royalties that went unpaid for live music that was re-recorded and the re-runs of the performances are stirring up the legal process.
Earlier this year, ET reported that former "American Idol" winners Taylor Hicks and Ruben Studdard had been dropped by their record labels. Today, we have confirmed that season six runner-up Blake Lewis has joined the unfortunate two and has been dropped by Arista Records.
The label issued the following statement to ET: "Arista Records will not be picking up Blake's option and we wish him the best of luck in his future endeavors."
That said, the beat boxer is still on the roster with Simon Fuller's 19 Recordings.
Comments
comments