"Saturday Night Live" just won't be the same without Amy Poehler who delivered a baby boy hours before the "Baby Mama" star was to appear on the NBC show.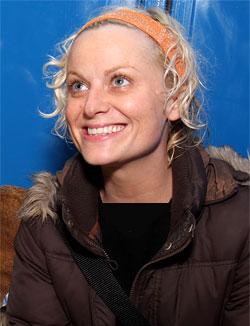 The live show's parody news anchor was missing from her spot alongside Seth Myers on "Weekend Update" because she gave birth earlier Saturday.
On behalf of Amy Poehler and her husband, Will Arnett, Poehler's spokesman, Lewis Kay declared: "I can confirm that Amy gave birth to Archie Arnett on Saturday."
The baby was born early Saturday evening in New York, weighing 8 pounds, 1 ounce. The baby boy is a first child for Massachusetts' native Amy and husband Will Arnett, and was due on Sunday, October 26.
Mother and child were "healthy and resting comfortably," according to the statement.
Amy Poehler, who performed on Thursday night's special edition of "SNL" and is known for playing Sen. Hillary Rodham Clinton, was rehearsing the show until Friday. She also starred opposite Tina Fey in this year's "Baby Mama" as a working class girl who agrees to be a surrogate mother for a single businesswoman.