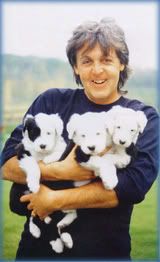 It was a good thing that Sir Paul McCartney, 64-year-old former Beatle, was not at home when an intruder tried to break into his British mansion last Friday. He was having lunch locally with friends when the terrifying incident happened.
The man drove into Sir Paul's Peasmarsh estate, in Sussex. It was reported that the intruder was screaming, "I must get to him." Security guards tried to stop the man reaching Paul's home by activating an emergency gate, but it was only after he had managed to get within yards of Paul's house.
A source revealed, "It was terrifying. This guy put the fear of God into everyone because they thought he wanted to kill Paul. This was the most frightening incident they've ever had at Peasmarsh." The source added, "Everyone was terrified that the guy could turn nasty. No one knew if he was armed."
The intruder, who fled on the scene, was arrested after a three-mile chase. He has detained under the Mental Health Act in a local psychiatric hospital. He is not facing criminal charges.
A police spokesman revealed, "We received a call from a security officer at Peasmarsh and later arrested a man at his home address. He was initially arrested on suspicion of criminal damage and failing to stop when challenged by police."