Brad Pitt spends $50K on art the day before Angelina Jolie's birthday.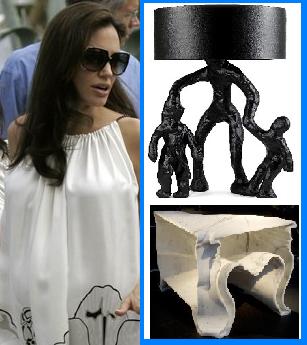 A day before Angelina Jolie's 33rd birthday, the "Babel" actor dropped more than $50,000 on art in Switzerland.
On Tuesday, Brad Pitt was chauffeured in a BMW to Switzerland's Art Basel fair, where he spent more than two hours snapping up goodies.
Brad Pitt was in Switzerland Tuesday attending Art Basel. Perhaps he was shopping for pregnant partner Angelina Jolie's birthday, she turns 33 today, as he dropped a pretty penny on a hollow marble table. He also bought an aluminum thread rug for an unspecified amount.
Aside from two bronze chairs designed by Max Lamb (at $25,000 a pop!), a fair attendee, Brad Pitt also scored a foam and fiberglass "Family Lamp" and reportedly a $293,000 table.
Angelina Jolie recently told Brad Pitt's passion for arts and architecture first attracted her to him. In Vanity Fair interview, she revealed, "I don't see him as an actor. I see him very much as a dad, as somebody who loves travel and architecture more than being in movies."
Comments
comments