She's had an image of everything from sex-vixen to Mother Earth and now it seems Angelina Jolie may want to add politician to that list.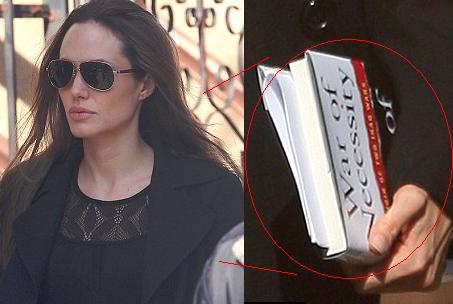 The 33-year-old actress was seen carrying around the book 'War of Necessity, War of Choice: A Memoir of Two Iraq Wars' by Richard N. Haass, during her breaks filming on the New York set of her latest movie Salt.
Far from being light reading, the book, part history, part memoir, provides a complex and in depth theory of how the United States can apply the lessons learned from the two Iraq wars so that it is better positioned to put into practice what worked and to avoid repeating what did not.
The mother-of-six, who is also a goodwill ambassador for the United Nations, has made no secret of her desire to affect political change.
She's has been especially vocal about what she believes is insufficient aid and funding from the U.S. and other powerful countries when it comes to refugees and disadvantaged children in developing world.
Angelina has even revealed that she now only makes movies to earn enough money to support various charities. But the actress, may have her hands too full with her ever expanding family to add a career in politics to her ambitions.