Benji Madden, the guitarist of Good Charlotte, is not settling down for now.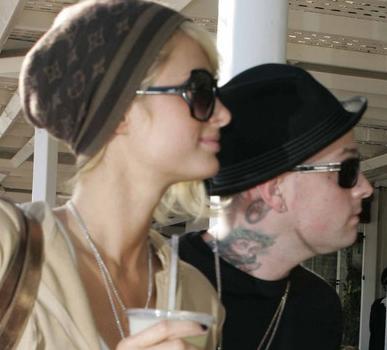 The "Good Charlotte" rock is playing coy when it comes to wedding bells with girlfriend of two and a half months, Paris Hilton.
The 29-year-old revealed, "We have a really great friendship, you know, and romance, all of it. We're really happy, we are lucky. We're just enjoying it, you know?"
Paris Hilton, who was hand in hand with Madden at the bash, was equally tight-lipped about their romantic future.
The socialite, who was wearing her trademark sparkler "BM" ring on her ring finger, revealed, "We're very in love," Paris Hilton said, smiling, for Joel Madden's initials."
Joel Madden, who was asked if they had gone engagement ring shopping, revealed, "Come on, man, you know."
Inside the party, brothers Joel and Benji sat with Paris around a circular booth and grooved to pal Samantha Ronson's DJ set while new mom Richie stayed home.
Also at the party: Lindsay Lohan, The Hills' Lauren Conrad and Lauren Bosworth, Dave Annable, and Jane's Addiction's Perry Ferrell.
Joel Madden revealed that he doesn't rule out Hilton and Benji unexpectedly tying the knot. He revealed, "Those two are crazy. They do the unexpected, so who knows? Obviously, me and Nicole have been together longer, but we have no plans yet, so who knows."
Comments
comments