Brad Pitt and George Clooney were recognized as charity heroes after United Nations officials saluted their charity efforts because cash they've raised has helped aid workers get food to desperate refugees in Darfur.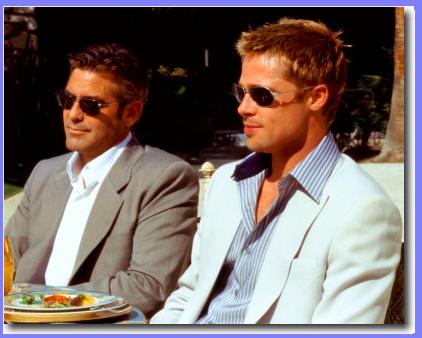 A $500,000 donation from the Hollywood actors' "Not On Our Watch" organization in March helped keep aid helicopters in the air after U.N. officials feared they'd have to shut down the refugee operation due to lack of funds.
George Clooney will talk about his charity's efforts as part of a fund raising gala on Giudecca island as part of the Venice Film Festival in Italy on Tuesday night.
George Clooney, Brad Pitt and their friends have staged such top-ticket galas at a host of film festivals around the world; their one-year-old charity has raised more than $7 million to help victims of humanitarian crises and disasters.
But it's the cash George Clooney and co sent to the U.N.'s World Food Program, which has won the celebrity group huge praise.
Bettina Luescher, who is the U.N. spokeswoman, revealed: "We sent out a press release one day saying we were on the verge of closing it down and the next day we had $500,000. They shine the light on the real emergencies and step up where we really need help."
George Clooney helped set up the Not On Our Watch charity after returning from a fact-finding mission to the Sudan with his father Nick in 2006. The father and son team filmed their harrowing trip for a documentary.
Comments
comments