Jennifer Lopez, who appears to be training for a triathlon, was spotted as she arrived at a charity event in Colorado last night.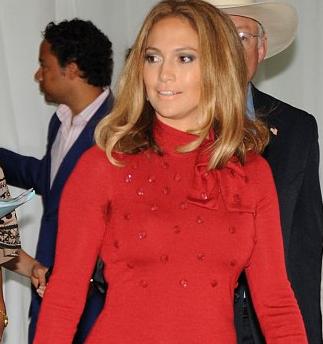 The stunning singer, who gave birth to twins Max and Emme just six months ago, was showing off her slimline figure on display in its glory in a figure-hugging red frock dress.
Her unsightly underarm sweat patches seems to be a little distraction from her immaculate ensemble. The 39-year-old singer is gearing up to take part in a charity triathlon in Malibu, California, next month, a decision she made when she was eight months pregnant.
She revealed: "I was beached like a whale. I was watching TV, and I saw a triathlon and I said, "I think I could do that." … Maybe we could raise some money and do something really great.."
She added: " I thought, "What can I do to make my babies proud?" I think about what they'll think about the year they were born – who I was and what I did. It's important to me to set examples for them. I want to lead with my life."
She was even determined to finish the tough race, declaring: "If I have to crawl across that finish line, then I will crawl across that finish line."
Comments
comments