Brad Pitt is going to Cannes – and means to win.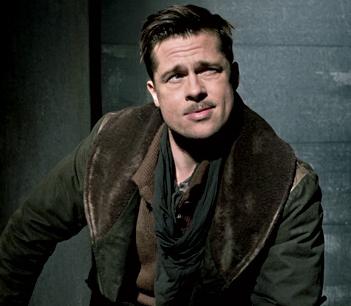 The star's WWII action film, the intentionally misspelled Inglourious Basterds, has been invited to this year's May 13-24 Cannes Film Festival, and the film's director, Quentin Tarantino, has not only accepted the call, Variety reports, he's agreed to allow the picture into competition.
The trade paper further reports that Tarantino has promised the Weinstein Company and Universal that his Dirty Dozen-style adventure about Jewish-American commandos battling Nazis will be ready in May. The movie is scheduled to open to the public Aug. 21.
A Cannes premiere – and possible prize – helps launch word of mouth. Basterds will mark Tarantino's fifth time out in Cannes – but only his second time at vying for the fest's top prize, the Palme d'Or. His Pulp Fiction took that one in 1994.
Meanwhile, in Vanity Fair's latest issue, Brad Pitt poses as the Nazi-hunting Lieutenant Aldo Raine at Studio Babelsberg, in Potsdam, Germany for his upcoming Quentin Taratino-directed flick, Inglourious Basterds.
According to the magazine, "the spellcheck-defying Inglourious Basterds, premiering this month in Cannes, has been described as Pulp Fiction meets The Dirty Dozen meets The Good, the Bad and the Ugly, set in Nazi-occupied France. Brigitte Lacombe invades the set of the latest from Quentin Tarantino, who provides an exclusive scene from his script for the May issue of Vanity Fair."
Comments
comments