Brad Pitt told Ann Curry on Tuesday's Today show that he will marry partner Angelina Jolie only if it is important to their kids.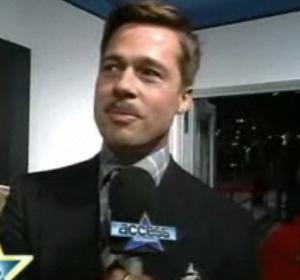 When asked if he and Angelina Jolie plan to tie the knot, Brad Pitt answered: "Listen, if we feel it's important to our kids, we will do so."
Brad Pitt spoke with Ann Curry at the site of his Make it Right housing project in the lower ninth ward of New Orleans where his charity is building 150 houses for families who lost theirs in Hurricane Katrina. Eight families have already moved and Brad proudly pointed out where some of those are now living.
However, when it came to his own family, Brad was initially reluctant to talk saying, "There are some things you want to keep close to the chest."
He continued: "I'm really proud of this family. I look at my sons and my daughters. One is from Vietnam, one is from Cambodia, one is from Ethiopia, and there is this kid that was born in Namibia…and they are playing…they are brothers and sisters man!"
He added: "I feel rich, I just feel rich being around them. It's a rich home. Each one of them offers so much to the mix."
Meanwhile, Angelina Jolie and Brad Pitt were spotted as they walked the red carpet in New Orleans on Monday, December 1, for a screening of the David Fincher's highly anticipated film The Curious Case of Benjamin Button.
Angelina Jolie's no-fuss look included a boatneck white L'Wren Scott sheath dress with three quarter sleeves. Her dark long hair was styled swept away from the face. The scarlet lip color and pearl eye color added glow to her pretty face.
She accessorized with graduated diamond drop earrings and cream criss-cross front peeptoe pumps.
Brad Pitt, in his Movember look and sporting a crew cut hair style, was big on plaid. He paired his three piece dark brown suit with grey plaid shirt and a brown plaid necktie.
The film tells the story of Benjamin Button, a man in his eighties who starts aging backwards with bizarre consequences. It is adopted from the classic 1920s story by F. Scott Fitzgerald.
Comments
comments