A tabloid report that Britney Spears is dating Benji Madden is false, according to her representative Holly Shakoor.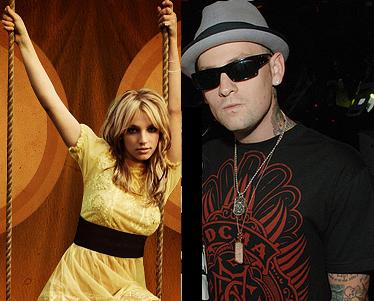 The representative said: "The claims made by In Touch are completely false. There is not an ounce of truth to any of it."
In Touch magazine reports in its current issue that Britney and Benji have been dating each other secretly, after being setup by her manager Larry Rudolph.
According to the story, Benji was on a list of potential suitors compiled by Britney's father and conservator Jamie Spears; the list also included Chace Crawford, Jesse Metcalfe and Michael Phelps!
A source revealed: "They've been on a few dates. They met once at The Peninsula hotel in Beverly Hills for dinner in a hotel suite. She appears to like Benji a lot, and he seems to really like her."
Benji dated Paris Hilton for nine months this year before calling it quits in November. Paris reportedly found the Good Charlotte guitarist "too controlling." The relationship was plagued by infidelity rumors.
Meanwhile, Benji Madden was spotted with his ex (and on-again/off-again friend to Spears), Paris Hilton, twice this week, and Spears just got back to L.A. after promoting her new album, Circus, in Tokyo.
Comments
comments