Many believed that when Jessica Simpson wore her "Real Girls Eat Meat" red t-shirt it was a direct slap at country music superstar Carrie Underwood.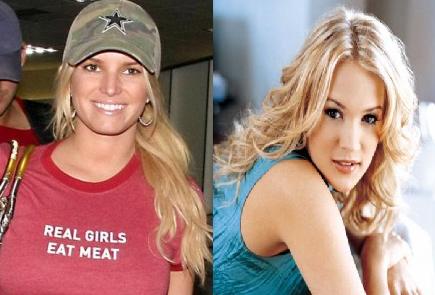 Would Jessica Simpson dare challenge the country singer Carrie Underwood and if so, why? Is Jessica worried about her beau and Dallas Cowboys QB Tony Romo? Many might speculated that it is a smart marketing move by the wannabe country star Jessica. She certainly could use the buzz, is she using the old "pop music" trick of a catfight battle to get attention and help aid her career?
It remains to be seen if country music will be kind to Jessica Simpson. She has now proudly declared that her pop career is over and she has said that she is now pure country. She's go the blonde hair and the cleavage that she could flaunt, but can she sing? Her first single "Come on Over" is not bad, and the Carrie battle might keep her in the world of gossip enough to get some interest.
For her part, Carrie Underwood is not talking. But she did say earlier that she is not worried about grabbing a man right now. According to a report that she's remaining focused on her career, a wise decision, given that her debut album went seven-times platinum, and her latest release, Carnival Ride, has already gone multiplatinum. Carrie recently revealed, "I'm a suck it up and move on kind of person. Every day is a new day, and you'll never be able to find happiness if you don't move on."
Comments
comments