Chelsy Davy, who previously seen watching a rugby match with Prince Harry, is completing work experience at Britain's Queen Elizabeth's solicitors.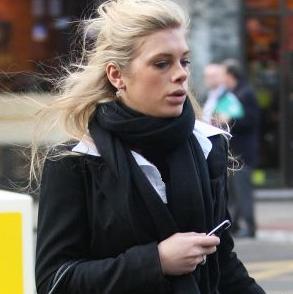 The Zimbabwean-born girlfriend of Prince Harry had her first day at Farrer and co. yesterday (08.12.08) and sources believe the Leeds university student's royal connections helped her land the prestigious placement.
A source revealed: "These London City law firms only ever interview Oxbridge graduates and, normally speaking, someone at Leeds would not get a look in. This isn't because the firms look down on other universities – it is simply that they consider that Oxbridge fulfills all their needs, so why bother to broaden the net?"
Farrer receives hundreds of applications for placements, but select just one or two for Christmas posts, for which they pay £250 a week. The law firm receive 700 applications a year for their two-year training program but select just 10 candidates.
Senior solicitors have been looking forward to their new addition as one revealed: "We're taking bets on who will be the first person to ask her to get the teas in."
Chelsy, 23, has been dating Harry, 24, for four years. She is in the second year of her law degree. She was smartly dressed in a black skirt suit as she blended in with the hordes of office workers as she went out for a lunchtime sandwich at Starbucks.
Comments
comments