Demi Moore's Twitter account is starting to seem more like a therapy couch.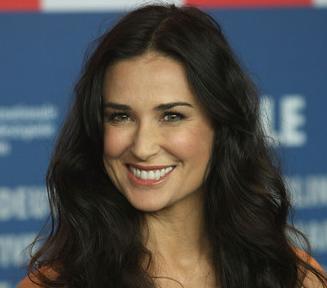 Last week the star reached out to a fan who wanted surgery to look like her.
And now her counseling skills have been put the the test by a suicidal Twitterer.
According to a report, the "Ghost" star was Twittering (as usual) April 2, when she got a shocking message saying: "I'm just wondering if anyone cares that I'm gonna kill myself now."
It was shortly followed by another, saying: "Getting a knife, a big one that is sharp. Going to cut my arm down the whole arm so it doesn't waste time."
Moore immediately replied: "Hope you are joking," — thereby sharing the potential crisis with her nearly 400,000 Twitter followers.
The Twittering hordes swung into action and flooded the girl's local police department with calls. The San Jose, California Police Department later reported she had been found alive and taken to hospital for evaluation.
About an hour after the scare, Demi Twittered: "Everyone I was very torn about responding or retweeting that woman's post but felt uncomfortable just letting it go."
"It is my understanding that the situation was not a joke and that through the collective efforts here, action was taken to provide help," she added later.
Her husband Ashton Kutcher chimed in on his own feed: "Wifey reported a suicide attempt based on a @ reply tweet she got and saved someones life."
Comments
comments