Dennis Quaid has blasted Meg Ryan for publicly "rehashing" the reasons behind their marriage breakdown.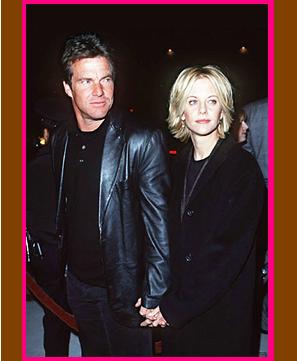 The actor was left fuming when "Sleepless In Seattle" actress Meg Ryan claimed it was his extra marital dalliances that led to the demise of their relationship in 2001, and has criticized the actress for failing to consider their 16-year-old son Jack.
He revealed: "It was eight years ago, and I find it unbelievable that Meg continues publicly to rehash and rewrite the story of our relationship. Also, I find it regrettable that our son, Jack, has to be reminded in a public way of the turmoil and pain that every child feels in a divorce."
Dennis Quaid, who now has 10-month-old twins with wife Kimberly Buffington, insists he has put his failed marriage behind him and is concentrating on the future.
The 54-year-old actor added: "I, myself, moved on years ago and am fortunate to have a happy, beautiful family."
Dennis Quaid has had a tough year, nearly losing his twin babies over human error and lax hospital protocol, and now his former wife rehashing the past to promote her new film. The actor thinks it's "unbelievable" that is former wife is talking about their divorce.
Meg Ryan, 46, recently said that Quaid was unfaithful to her for a long time when she commenced an affair with her co-star Russell Crowe, saying: "Dennis was not faithful to me for a long time, and that was very painful."
Comments
comments