Gisele Bundchen, who is a supermodel and girlfriend of Tom Brady, has posed for GQ magazine and the photos from the photo shoot are now online.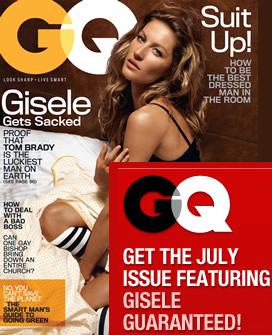 The stunning supermodel poses for more daring shots in the June 24th issue of GQ Magazine, which you could see here.
The sexy model and actress reveals some interesting facts in an exclusive interview with the magazine.
The magazine describes her as: GISELE BÜNDCHEN: GOSSIP GIRL "The globe's reigning symbol of female perfection talks about playing with the fashion world's wolves, dating a Super Bowl loser, and where the hell all her money has gone."
Gisele's own accent can best be described as "Continental." She seems to have learned English from Italian designers, German hairstylists, and French makeup artists. Her enunciation is equal parts Donatella, Hans and Franz, and Maurice Chevalier.
She revealed, "This is exactly how I would describe my work: I get there, I put on the clothes, I leave it on the hangar, and I go home. And that's what I do."
And it makes sense, considering what a rough business the fashion industry is: "When you are out there with the wolves, you have to play with the wolves, you know?"
Meanwhile, Gisele Bundchen was studying a model-release form someone has just handed to her. She added, "I have my own release form. Just ask my agents; they'll send it to you."
Comments
comments