Princess Eugenie, who wears an elegant hat and too short skirt, was spotted in the prestigious event for the Royal Ascot.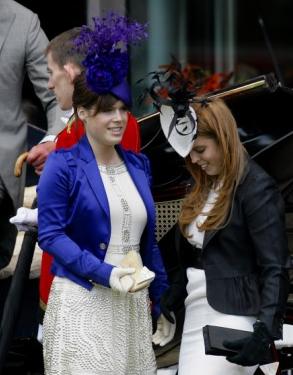 The young royal, who wears a daringly short dress in the Royal Enclosure at Royal Ascot, was cheering happily on the horses with her sister Beatrice.
In a bid to rid the Royal Enclosure of any inappropriate attire the organizers issued a series of rules regarding dress and etiquette, after witnessing one too many sartorial disasters in the past, warning race-goers they face being turned away if they flout the rules.
With fashions under scrutiny most appeared to be sticking to the rules, it was clear Princess Eugenie was flirting dangerously with the strict dress code. Accessorized with a jaunty purple feathered hat and matching satin jacket, the Princess opted for a pale, pearl-embellished gown that looked to exceed the maximum 2 inches above-the-knee rule. What would her grandmother, the Queen, say?
She was not the only woman to make an effort with her outfit as score of fillies arrived in all their finery to the five day racing event, including Zara Phillips who opted for a more demure fifties-style black skirt, topped off with a matching over-sized rose and feather detailed millinery creation.
The three fashionable minor Royals were joined by the Queen, Prince Charles and Camilla, who also opted for a pale, muted palette. The Duchess of Cornwall wore a pale mint green dress suit with a matching feather-trimmed hat.
The event also attracted a host of celebrities including Michael Owen and his wife Louise, music mogul Andrew Lloyd Webber, Judi Dench and Nigel Havers. For the first time this year the prize money on offer to jockeys over the course of the five-day meet in Berkshire has reached £4million.
Comments
comments