Hayden Panettiere, who is the star of the show "Heroes" shows off her super cleavage as she promotes her BBC2 hit show.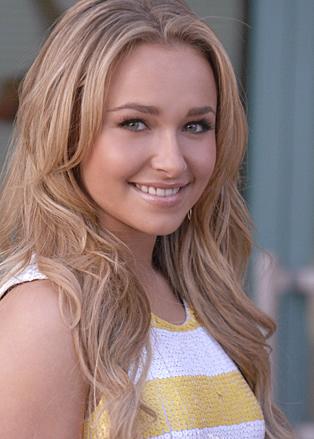 The 19-year-old actress, who plays the role of cheerleader Claire Bennet, gave fans an eyeful as she plugged the show's third series.
But the star blushed as soon as she realized her unusual moment and she used her superpowers to make her charms disappear by quickly hiding her cleavage with her hand.
As for other news, the actress was spotted looking hot goth when she went to the MTV studios in New York.
The blonde beauty, who celebrated her 19th birthday last week by splashing in a pool with her Labrador, popped into the Total Request Live offices for a quick appearance on the show.
Hayden Panettiere , who left with her sexy Heroes co-star and boyfriend Milo Ventimiglia, dazzled onlookers with her stylish take on goth with her all-black minidress, boxy leather jacket and strikingly bold red lipstick.
Comments
comments