Hilary Duff is on a beauty treatment overdrive. After relaxing through a manicure and pedicure on Thursday, she pampered herself on Friday, July 18, at Neil George salon, where she spent over 3 hours getting her hair fixed.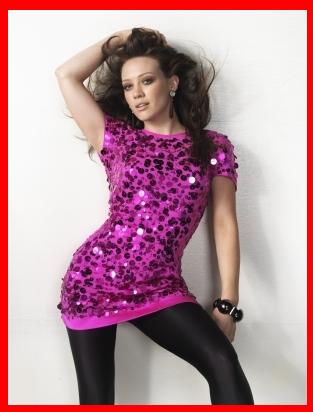 She walked tall and looked fit in skinny white jeans and a grey scoop neck tank with brush stroked blue and white design on top as she left the salon. She carried a Louis Vuitton Damier Azur Speedy bag with leather handles and a checkerboard pattern.
The 20-year-old singer and actress, a former Disney channel teen star like Miley Cyrus and Britney Spears, was met by a crush of paparazzi that jostled for a picture as a salon staff member escorted her to her car.
Her double shaded razor cut hair looked amazing, set in a middle parting, with a few wisps of her eye level bangs falling over her forehead.
Hilary's role as an Asian superstar in the recently released indie political satire War, Inc. has earned nods from several critics, even though the film did not do well at the box office.
She recently completed filming for two more indie films – Greta and Safety Glass
In Greta she plays a waitress who falls for an ambitious cook (Evan Ross son of Diana Ross) at the restaurant where they work. But as their summer romance heats up, she has to overcome the concerns of her grandparents (Burstyn, Murphy) about her boyfriend's criminal past.
In the dramedy Safety Glass she plays a reporter sent to cover the ill fated Challenger Space Shuttle launch who becomes mixed up in the lives of some local students.
She recently signed up for the comedy Stay Cool, in which she plays a sultry high school senior who tries to seduce an author (Mark Polish) visiting her school.
Hilary Duff, whose first studio album, Metamorphosis (2003), was certified triple platinum, is expected to record her fifth studio album during summer 2008.
She has been dating Canadian NHL player Mike Comrie, 27, since 2007. He bought her a brand new $100,000 car for her twentieth birthday on September 28, 2007.
Comments
comments