Hilary Duff looked stunning and stylish visiting a veterinary clinic in Los Angles, on Thursday, July 3, wearing rolled up tight plaid pants with a white tank top.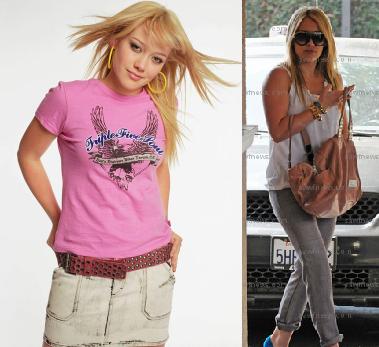 She accessorized with blue pumps, shades, a brown leather bag and two chunky bracelets on her right arm. Her blonde hair, parted at the middle, cascaded down her shoulders delicately framing her face.
[Hilary] Duff, whose first studio album, Metamorphosis (2003), was certified triple platinum, is expected to record her fifth studio album during summer 2008.
Best known for her films such as Cheaper by the Dozen (2003) and A Cinderella Story (2004), she is set to star in the new comedy Stay Cool, in which she plays a sultry high school senior who tries to seduce an author (Mark Polish) visiting her school.
[Hilary] Duff commands a paycheck of $2 million per movie. She was ranked at #7 in the Forbes Top 20 Earners Under 25 list in December 2007, with an annual earnings of $12 million. She is also ranked at # 7 in FHM's list of the Sexist Women in the World!
[Hilary] Duff has been dating Canadian NHL player Mike Comrie, 27, since 2007. He bought her a brand new $100,000 car for her twentieth birthday on September 28, 2007.
Comments
comments