After a brief romance with John Mayer, it appears that Jennifer Aniston returned to Hollywood for romantic relationship with a Scots actor.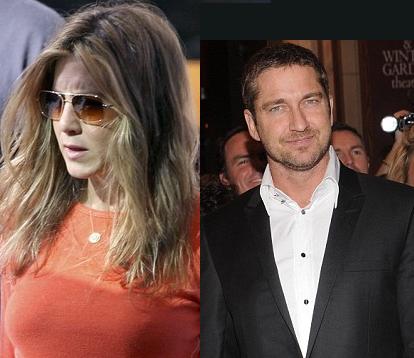 The former "Friends" star was seen getting close with Scots actor Gerard Butler. The celebrity pair was seen in deep conversation together at a hotel bar at the Toronto International Film Festival last week.
Jennifer Aniston went to Toronto so that she could promote her new film "Management", while Gerard Butler attended the world premiere of his new film "RocknRolla" before deciding to stay in Toronto for the remainder of the festival.
A fellow party goer at the city's Park Hyatt Roof Lounge spotted the famous pair enjoying each other's company at a late night bash following the screening of Jennifer Aniston's new movie.
An eyewitness revealed: "They immediately made eye contact. They had instant chemistry."
Another onlooker remarked the couple looked remarkably familiar with each other, suggesting they had met before.
The onlooker revealed: "It didn't take Gerard and Jen long to gravitate to one another. When they came together, it was all hugs and smiles. She was playing with her hair and acting coy. At one point, Gerard had his hand on her thigh and was whispering in her ear."
After spending most of the evening together, the celebrity pair left at the same time, with drinkers noticing Gerard Butler, 38, rubbing Jennifer Aniston's shoulder and kissing her on the head.
Meanwhile, Jennifer Aniston has insisted that she is happy to be single. The actress shrugged off suggestions that her recent break-up with musician John Mayer has left her devastated.
Jennifer Aniston, who recently filmed a guest appearance on 30 Rock, claimed that she is keen to set the record straight and show that she is not heartbroken.
She added: "I'm grateful that the public is still interested in my life and my movies – and I hope that I can justify their interest… People are so kind, ultimately. And I'm happy so don't worry about me!"
Comments
comments