Kate Middleton, who wore short shorts and black boots, was the organizer of a charity roller disco. Her little disco dress up was for a worthy cause, which is a charity, set up in memory of an old school friend.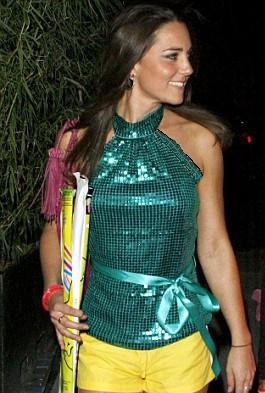 The 26-year-old brunette beauty wears a green sequin top, luminous yellow hot pants, leg warmers and a big smile in the photos and shows off plenty of leg.
Prince William's girlfriend was in good company. Hundreds of guests attended the Day-Glo Charity Roller Disco, at the Renaissance Rooms in Vauxhall. Kate's sister Pippa, Princess Beatrice and boyfriend Dave Clark turned out to support Kate's charity project
Holly, who is the 26-year-old daughter of Richard Branson, was also helping to organize the Day-Glo Midnight Disco, wore a pink tutu over her bright orange ensemble.
Kate Middleton changed her black boots and she took to the floor in bright pink roller boots.
Hundreds of people turned out to help raise £100,000 for a new surgical ward at Oxford Children's Hospital, set up in memory of Thomas Waley-Cohen, who died from bone cancer in 2004 when he was just 20.
Meanwhile, Kate and Prince William have been dating for five years off and on and seem stronger than ever. The brunette beauty is said to be anxious to prove she is not sitting round "waiting for [Prince] William to click his fingers", as senior Royal sources have recently claimed.
Comments
comments