There are a lot of rumors have circulated that Casey Aldridge has cheated on Jamie Lynn, which was not confirmed by anybody until another woman Kelli Dawson came forward to reveal something.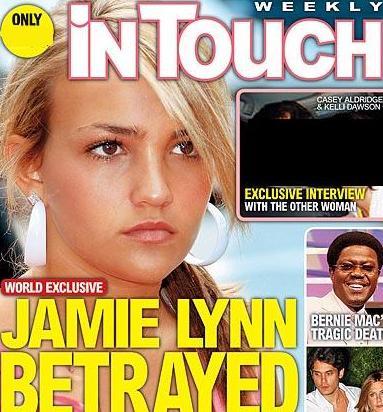 During the exclusive interview with a magazine, Kelli Dawson, 28, revealed that she and Casey, 19, were romantically involved and were still sleeping together when Jamie Lynn, now 17, was six months pregnant with his child.
According to a report, the relationship between Casey Aldridge and Kelli Dawson was both real and lasting, even the announcement of Jamie Lynn pregnancy would not have the slight effect over their relationship.
Kelli claimed that she and Casey Aldridge still meet up on a regular basis, saying: "I see him all the time, at least once a week."
The celebrity pair first met in November 2006, at the home of her sister, Kim Toller. At the time, Casey was already dating Jamie Lynn, but the sexual chemistry between Casey and Kelli was instant.
Kelli Dawson continued: "We were both really attracted to each other. He totally instigated it and pursued me. His friends would tell me that he liked me, that he thought I was pretty."
The couple saw each other a few times and "kissed randomly," but it wasn't really "hot and heavy," Kelli admits, until the spring of 2007. Though Casey and Jamie Lynn were still involved, Kelli insists, "You never knew if they were broken up or not, because it changed from day to day!"
The pair didn't bother to hide their relationship. Jason Alexander, the first husband and a native of nearby Kentwood, Los Angeles, confirmed: "Kelli and Casey have been a couple on and off for a few years. They were a really tight couple, but I think it was hard for Kelli, having Jamie Lynn in the picture."
Kelli added that she and Casey stopped sleeping together a few months before Jamie Lynn gave birth to their daughter, Maddie.
She explained: "It just didn't feel right. He had to deal with the baby coming, and it had to stop." She says the last time the couple had intimate thing together was in March but "even after we stopped having s*x, we would still kiss occasionally."
Comments
comments