Jamie Lynn Spears left the Mississippi Southwest Regional Medical Center in McComb, Mississippi Saturday two days after giving birth.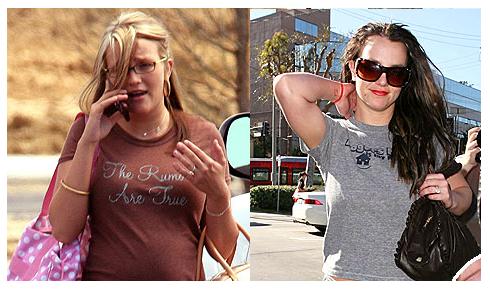 The 17-year-old was driven out of the hospital by 19-year-old fiancé Casey Aldridge in a white Range Rover at 1:40 a.m. She was in the back seat surrounded by a white sheet. The couple received a police escort.
Maddie, which was born Thursday weighing 7 lbs., 11 ounces, was the first child for the "Zoey 101" star and Aldridge, a pipe layer.
Alli Sims, which was Jamie Lynn's cousin, revealed, "I'm sure the baby's beautiful, and I'm so glad everybody's healthy and doing well."
Meanwhile, Jamie Lynn's sister Britney Spears, 26, was seen wearing bikini in the courtyard of her mansion. You could see her bikini candids here.
A photographer snapped a picture of the troubled singer while she was enjoying sunbathing.
The "Sometimes" singer returned to L.A. Friday after flying to Louisiana for the birth. Britney's arrival at LAX caused chaos among over 30 paparazzi.
Britney Spears fears she won't live to see her 28th birthday, according to the author of a shocking new expose about the troubled pop star.
Biographer and journalist Ian Halperin spent 18 months studying the Toxic singer as an undercover paparazzo, getting close to the star and her inner circle.
And now he's writing all about his findings in a new book, which he hopes to have on shelves by Christmas. Amid all the claims of drug abuse, bipolar problems and suicidal tendencies, Halperin states Spears told him personally she fears she will die at 27.
The biographer revealed, "She told me she feared she'd die at age 27 (her current age), just like other music stars, like Janis Joplin and Kurt Cobain."
Comments
comments