Jennifer Aniston alluded to the ladies on "The View" that the delectable curves that she flaunts in the nude GQ photo shoot aren't entirely real as she admits that it was photoshopped.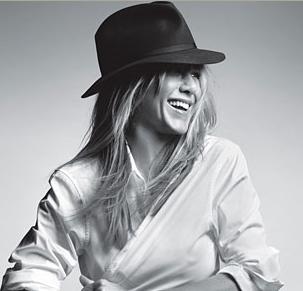 The 39-year-old star appeared on the show on Wednesday morning, December 24, to promote her film "Marley & Me" out Christmas Day.
Barbara Walters asked while holding up the GQ January issue, where Aniston appears wearing only a tie: "What happened to the girl next door from Friends?"
The actress answered: "She's there! Photoshopped!"
When asked are you trying to project a somewhat different image with this, Jennifer replied: "There was a story behind this. This had a whole concept. It was going to be in various stages of undress. There was going to be me in a gown and men in tuxedos. And then it would be me wearing the man's shirt. And he would have no shirt on. And then they were supposed to get n@ked! Somehow I don't know what happened!"
View panelist Joy Behar joked: "Were you drinking or smoking something?"
Jennifer responded: "They got me bombed. It was a Danny DeVito moment." The actress referred to DeVito's 2007 View appearance after a night drinking Limoncello with George Clooney.
On the "significant" event of turning 40 on February 11, the actress shared: "I'm proud of being almost 40. I am. It really is something. When they say it's just a number, it's just not how I feel. I feel better than I did in my 20s and my 30s. There's something that happens. I'm not sure when it is."
Asked how she stays in such wonderful shape it was clear from her response that she didn't entirely rely on Photoshopping.
Jennifer added: "I workout like every other day, I go run and yoga, and just eat well. You know, all the basics."