Jennifer Aniston's most famous split is from Brad Pitt — but that's not the breakup she calls "horrible" in a new interview.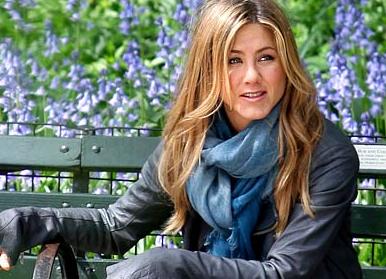 "I broke up with a guy and he tried to get back together with me by bringing his mother to a restaurant I worked at and getting down on one knee in the middle of the restaurant," Aniston, 40, tells USA Today while promoting her new flick, Management (out Friday).
"The whole restaurant started applauding and I was like, 'Get up!' It was horrible," Aniston laughs.
In her new romantic comedy with Steve Zahn, she plays Sue, a career woman who secretly dreams of quitting her job and opening a soup kitchen.
What would Aniston do if she wasn't acting?
"That's such a tough question. I would say, probably something in the health industry. It's too late to go to medical school," she says. "I'd travel. I'd go back to the years that I never did what I'd wish I'd done, which was travel Europe and backpack. That sounds slightly romantic."
After more thought, Aniston continues: "What I would do? I don't know. Maybe become a chef."
There would be perks of not being famous.
"Would I love a level of anonymity? Sure, there are times I'd love to take a moment. But that's lonely," Aniston says. "It seems like a lonely existence that [Sue] has made and convinced herself that it's comfortable.
"There's so much more to do. It's almost overwhelming," she says of her work. "I've gotten to a great place in my career. "
She's more selective of her roles now, though.
"It's so much of our time. It's all you're doing. You go home, go to bed, learn your lines, go to bed, wake up, go do the movie," Aniston muses.
"You've got to really love the project. I just left home after I built up my house for 2 1/2 years. I moved in for a month and now I'm here," she continues. "I don't want to do the same thing over and over. It's not about, 'Oh, it's going to be a big hit.' I don't want to do that."
But when she does get away, Aniston loves a trip to Mexico — regardless of swine flu fears.
"I'd suffer through that that and put a mask on," she jokes.
Comments
comments