The actress wears dominatrix heels and corset that reveals her breasts on the cover of a French magazine.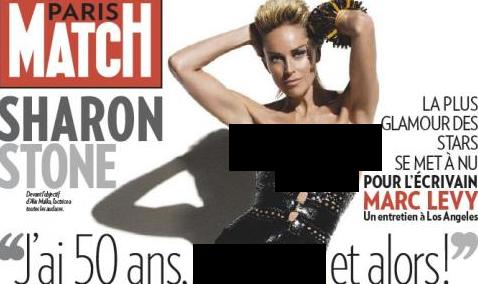 Sharon Stone attempts to break age barrier by posing topless at the ripe age of 50. She is the latest cover of French magazine Paris Match, on sale Thursday, August 6, which headline is "I'm 50 years old, so what!".
In the photo she is wearing a black corset that stops below her breasts. "Is there an age when a person should forbid themselves from doing these kinds of things, from showing your body?" Stone said in the interview published inside the publication.
"This is middle-age, it's not the end of life!" she said further in defense. "If someone is shocked by these photos, it's a reflection of their own view of life, and they should ask themselves why they have that attitude."
Stone, a mother of three, is actually 51 years old. She is notorious for not hesitating to bare her body when it's required. She made the famous "Basic Instinct" gesture where one switches the position of the legs and exposes the private part along the way. "I'm a person who feels that if it's appropriate for the character I'm playing or the mood of the piece, then (posing nude) is no big thing," the actress said.
Comments
comments