Jon and Kate Gosselin reunited for a Fourth of July picnic with their eight children.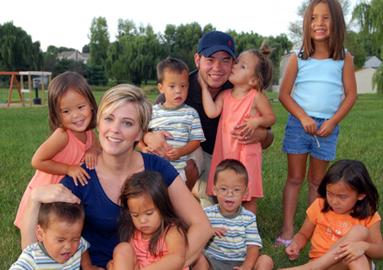 The reality TV show stars of TLC's "Jon & Kate Plus 8" filed for divorce in June but had agreed to spend the Fourth of July together so they could both spend time with their brood, People magazine reported.
"Jon pointed to the July 4 holiday and said, 'What are we going ot do about that?'" Kate said during an interview with People magazine. "I absolutely cannot imagine not spending every single holiday with my kids. I don't care what it takes. I will be there."
The family was spotted playing volleyball and picking blueberries for a cake Kate was baking at their sprawling Wernersville, Pa., estate on Saturday as Jon lit up sparklers.
The couple split among rumors of infidelity and a growing rift in their 10-year marriage. Kate said in a statement that "Jon's activities" had left her "no choice but to file legal procedures in order to protect myself and my children."
Jon said he was "hurt" by Kate's statementdivorce, and that he does "everything I can to protect our family."
The two plan to spend equal time with their kids at the $1.1 million house they moved into last year with their 8-year-old twins and sextuplets who just turned five.
Comments
comments