Addressing the fact that Nick Jonas lacks the famous "Jonas eyebrows," Joe Jonas jokingly says his younger brother is an adopted son.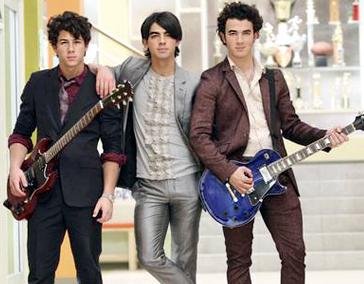 Kevin Jonas, Joe Jonas, and Nick Jonas open up about some fun facts people might never know about them. And one of the things that they address in a video from the new AT&T and MTV interactive campaign, "Unlock the Vault", is the fact that Nick lacks the famous "Jonas eyebrows." Speaking of that matter, Joe jokingly says, "He's adopted."
As for he himself, Joe admits he "can do some pretty amazing tricks with pretzels." Proudly gushing about his ability, the middle of Jonas Brothers claims, "people would be surprised."
Eldest brother Kevin, moreover, reveals that he has a scar on his head. "I have a giant scar in the back of my head," he confesses. "This kid's fault," he adds when pointing to Joe who has caused him getting "eight staples" for the scar. "We were Ultimate Fighting," he recalls.
Kicking off their career in entertainment industry as singers, all of the Jonas Brothers are slated to team up with Miley Cyrus to record a song titled "Pass It On" for Disney, the label which has helped them earning their worldwide fame.
Comments
comments