Katy Perry, who sings the controversial song "I Kiss The Girl," looks as if she's not content to just kiss the girls as she donned a sugar pink wedding dress during a video shoot.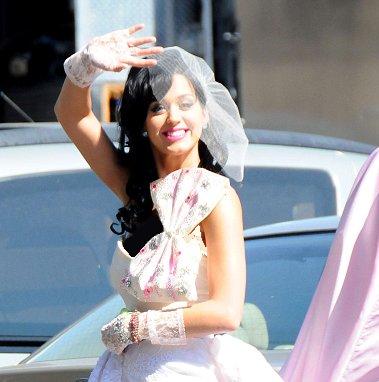 The American controversial singer was seen walking on the set of the video for follow-up single "Hot and Cold". She appears to be getting married in the morning in a sugar pink gown on the set of her new video
While she walked from her trailer to a church on set, one of her handlers stepped on her dress causing her to trip but thankfully, she regained her composure and happily waved to fans.
Katy Perry, who was raised in a strict religious household in Santa Barbara, insisted she's not your average bubblegum pop starlet, saying: "I don't care who I'm compared to as long as people listen to the music."
Meanwhile, British comic Russell Brand has revealed "I Kissed a Girl" singer Katy Perry will perform "Like a Virgin" at Sunday's MTV Video Music Awards.
The English host revealed at a press preview: "There's a lot of virginity and lesbianism going on at the show."
Comments
comments