Jennifer Aniston, who is preparing for her latest role as a stalker on US comedy series 30 Rock, has attracted a lot of attention on the "30 Rock" set when the actress filmed a guest appearance as a crazed stalker for NBC's hit show.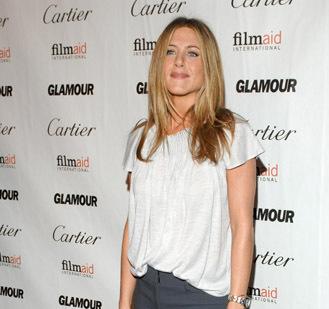 The former "Friends" actress' character, Claire Harper is the former roommate Liz Lemon (Tina Fey) who arrives in New York and stalks Jack Donaghy (Alec Baldwin).
The actress seems to be the ultimate femme fatale for her guest appearance as she makes crazy eyes at Alec Baldwin on the set of "30 Rock." NBC announced this week that her role is a "free-spirited, Fatal Attraction-like stalker."
In new footage from the NYC set of 30 Rock (courtesy of Entertainment Tonight), Jennifer Aniston fights off cops and yells "shoot him!" She shows up in the Big Apple and attaches herself to Alec Baldwin.
Her co-star Tina Fey revealed: "Jennifer is not only incredibly lovely to have around, she also has what the young people would call 'mad skills'. We're very excited that she's joining us."
Jennifer is returning to the small screen after guest appearing on Courtney Cox's show Dirt, as Courtney's rival and lesbian interest. Meanwhile, The show "30 Rock" may soon be getting another famous face: Jennifer Aniston's pal Oprah Winfrey is also in talks to guest star.
Comments
comments