A Los Angeles jury on Friday began deliberating a paparazzo's claim that actor Keanu Reeves knocked him down with his Porsche and permanently injured his wrist.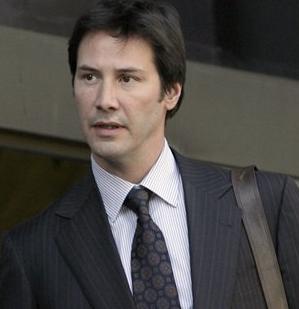 Attorneys for both sides issued their closing arguments before the jury deliberated about five minutes and left for the weekend. Jurors will resume work Monday.
The attorney for Alison Silva, a photographer who claimed that he was hit by the "Matrix" actor in March 2007 while Keanu Reeves was behind the wheel of his Porsche, asked the jury to award Silva $711,974, which includes medical bills, loss of wages and punitive damages. Silva's attorney Joseph Farzam said in his closing argument he was a fan of Reeves but continually contended the actor was "a little careless."
"Would a reasonably careful person keep driving forward?" Farzam asked the jury.
Reeves' attorney, Alfred Gerisch, described Silva as a "paparazzo gone wild" in his closing argument and focused on Silva's contradictory statements to doctors, deputies and witnesses about what happened. Gerisch also replayed a video of the Brazilian-born paparazzo using his supposedly damaged left hand to hold onto razor wire atop a fence to shoot video of Britney Spears.
"You have some ability to stop what Mr. Silva does," Gerisch said.
Reeves was in the courtroom Friday for the proceedings. Before Gerisch presented his closing argument, the actor asked his attorney to move his podium so it wasn't blocking Silva's attorney in the cramped courtroom. The star of "The Matrix" trilogy and the upcoming remake of "The Day the Earth Stood Still" has remained in the courtroom throughout the trial, occasionally conferring with his lawyers.
Meanwhile, Keanu Reeves was spotted as he leaves the Stanley Mosk Courthouse in Los Angeles on Monday, Oct 27, 2008. A jury has been seated in a paparazzo's civil trial against Reeves. Opening statements were beginning Monday in Los Angeles, where several prospective jurors indicated ties to the movie industry.
Comments
comments