Leighton Meester, who plays mean girl Blair Waldorf in the racy TV series Gossip Girls has been named Fall TV's Hottest Star by FHM Online.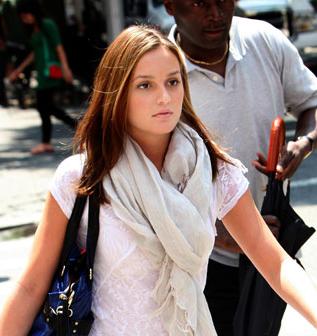 FHM Online U.S. Editor JR Futrell revealed: "As bad girl Blair Waldorf in this year's breakout hit, Gossip Girl, Leighton Meester has stolen the spotlight with her mind-blowing good looks and amazing performance. While you may not be hooked yet, Gossip Girl is one of the sexiest shows on TV, and Leighton is quickly becoming one Hollywood's fastest rising stars."
Leighton Meester was named by Vanity Fair as one of today's hot young thing in its August issue, along with Jessica Szohr, Penn Badgley, Blake Lively, Chace Crawford, Ed Westwick and Taylor Momsen. She also made it to the cover of Lucky magazine as TV's best dressed new star.
The 22-year-old star has encountered meanness in her life but not of the degree that her character in the TV series exudes, saying: "There was always one little girl in each grade that was mean to me. But I was never mean to anyone. I was never like, 'Ew!'?"
Leighton Meester, who appeared in season one of Entourage as Justine Chapin, will reprise her role in season five, appearing in at least one episode in the first half of the season. Season five of the show is set to premiere in September.
Leighton Meester and Blake Lively will be guest starring on NBC's 30 Rock this season, playing former high school acquaintances of Tina Fey's character, Liz Lemon, in what is currently slated to be the fourth episode and will air in November.
She has been singing and writing songs for the past couple of years. During the break between the seasons, she worked on her debut album which is almost complete, though no release date has been finalized.
Here is the list of FHM Online's Fall TV's Hottest Stars are:
1. Leighton Meester, "Gossip Girl"
2. Hayden Panettiere, "Heroes"
3. Madeline Zima, "Californication"
4. Deanna Russo, "Knight Rider"
5. Jamie-Lynn Sigler, "Entourage"
6. Jaime King, "Gary Unmarried"
7. Summer Glau, "Terminator: The Sarah Connor Chronicles"
8. Kaley Cuoco, "The Big Bang Theory"
9. Dania Ramirez, "Heroes"
10. Eva Longoria, "Desperate Housewives"
Comments
comments