Lindsay Lohan was asked at Fashion week about her weight loss, insisted all was okay and "it's not intentional."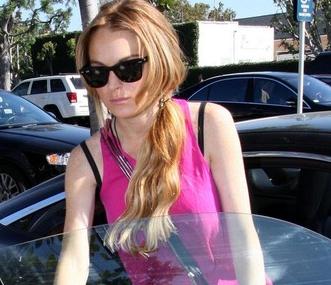 She revealed at the Matthew Williamson NYC store opening: "I eat. I had my Big Mac yesterday from McDonald's. I eat just as much as I always have."
The 22-year-old actress (who has raised eyebrows before for her skinny frame) said she thinks she has just been "working a lot." She said she also blames "stress … and lack of sleep when I travel."
The actress, who said she doesn't know how much weight she has lost ("I've never weighed myself in life," she said), continued that she doesn't think about the pressure to be thin in Hollywood anymore.
She also revealed: "They've already said everything about me that they can say. And I've never really cared then. I'm my own person, and people can say whatever they want. I'm still going to be the person that I am."
She added: "And I think that's so important for people in Hollywood. People have their ups and downs. Kids in college get DUIs. Everyone goes through something, and everyone can relate to something. I think that I don't ever want to pretend to be something that I'm not. I'm not perfect; nobody is perfect. If you try to be perfect, you'll probably go crazy. But you should always accept yourself for who you are. And that's what I've done, and I'm happy."
As for girlfriend Samantha Ronson (who canceled a Valentine's Day DJ gig in South Florida), Lohan said, "She's sick. She's in L.A."
Other papers have jumped on her skinnier frame, which comes right as she and girlfriend Sam Ronson are having public spats.
Comments
comments