Salma Hayek and French businessman Francois-Henri Pinault wed over the weekend in Paris, it has been confirmed.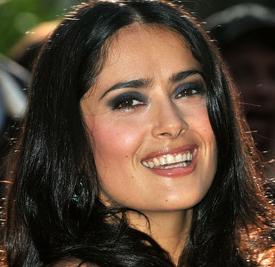 The couple got hitched in the town hall in the St Germain area on the Left Bank on Saturday, mayor Jean-Pierre Lecoq first said, confirming a report by French newsmagazine Le Point.
The two have a daughter, Valentina, who was born in September 2007. (He also has two children from a previous marriage.)
Hayek, 42, and Pinault, 46, have appeared to be "on again" for some time since calling off their engagement in July 2008, getting cozy at events in Los Angeles and in his native France.
Even though they briefly split, Hayek has said all along that they'll likely wed.
She revealed last year: "Do I think we are going to get married? Probably. Will it make a difference? I hope not."
She added: "You want to grow old with someone, you want to have a partner and to have children we have all those things. Some people need the commitment. Maybe we'll just make the party!"
The two met in Venice in May 2006.
Comments
comments