Despite their ups and downs, Samantha Ronson and Lindsay Lohan's romance was hot, hot, hot while the girls spent the weekend in Chicago to hit Lollapalooza and celebrate Sam's 32nd birthday.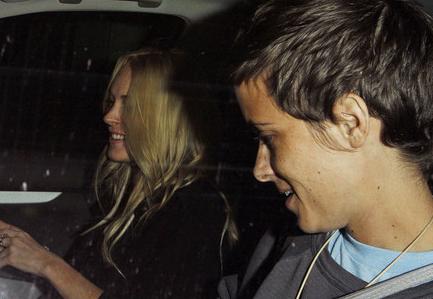 On August 7, the on-again couple checked into the Hotel Sax's posh Chairman Suite. After spending a few hours of alone time together, the lovebirds joined Lindsay's sister, Ali Lohan, Sam's half-sister, Annabelle Dexter-Jones, and four friends for a birthday dinner at Hub 51. Lindsay and Sam sat side-by-side throughout the meal, occasionally leaving the table for smoke breaks and to steal kisses outside.
"They kept smiling at each other and holding hands," a source tells Star. "It was very sweet. Not only did Lindsay make a toast to Sam, but because Lindsay was so caught up in the moment, she Twittered a special message to Sam to let her know how happy she was." The lovebirds capped off the meal with Martha's Carrot Cake, and Lindsay went nuts with the whipped cream, licking it off her fingers. "I love it on everything!" she said.
Following dinner, the group headed to Crimson Lounge, where Sam had a deejay gig from 10:30pm-1:30am and Lindsay watched from a nearby booth.
"Whatever happened during their separation did wonders because Sam and Lindsay were completely different people," the source continues Star. "Not only were they totally at ease with one another, but this was the first time Lindsay wasn't constantly clinging to Sam while Sam was working. As for Lindsay, this was the first time I have seen her calm and not freak out the second Sam goes into the DJ booth. It was like Lindsay felt secure with their relationship, so she let Sam do her thing."
When Sam wrapped up her gig, everyone went over to Angels and Kings, where the festivities continued. "When Sam walked in, she received chocolate cupcakes and everyone — including Lindsay — started singing and clapping in Sam's honor," adds the source. "Lindsay was so proud of Sam and kept looking at her with such love in her eyes."
On Saturday, Sam and Lindsay spent all day holed up in their 16th floor suite playing Guitar Hero on a 65-inch plasma screen, watching movies and ordering room service. The only time the girls emerged was when Sam had to host a party for the launch her Supra Sneaker at Angels and Kings, where she was also presented with a cake designed by Chicago's Angel Food Bakery that looked like one of the sneakers from her collection.
So what's changed for the couple, whose breakups and reunions are legendary? "Lindsay is totally abiding to Sam's rules," the source explains. "Before they got back together, Sam laid down the law to Lindsay and explained the way things were going to be going forward. It appears Lindsay is listening."
Comments
comments