Newly-single ladies Lindsay Lohan and Sam Ronson have been spotted out and about separately for the first time since their split.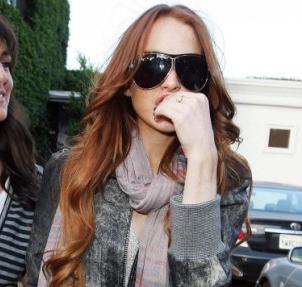 Lindsay opted to cheer herself up with a series of beauty treatments at the Byron and Tracy salon in Beverly Hills, along with her younger sister Ali, yesterday.
Meanwhile Sam, 31, enjoyed a quiet coffee and a heart-to-heart chat with Benji Madden in nearby Larchmont Village.
Lindsay and Sam parted ways last week after an almighty row on Friday night which was sparked after Sam and her family refused to allow Lindsay in to a party at Bar Marmont in Hollywood.
The 'I Heart Ronson' bash was an event to celebrate Sam's twin sister Charlotte's new clothing range.
News of the split however was music to the ears of rapper Eminem – who sings about the couple in his new video.
He took a swipe at the pair in We Made You, which was released on Tuesday, just days after they broke up.
In one scene, Eminem is driving a truck while Lindsay and Sam lookalikes kiss next to him.
Eminem sings: "He does not mean to lesbian offend, but Lindsay please come back to seeing men. Samantha's a two, you're practically a 10. I know you want me, girl. In fact I see you grin."
Comments
comments