Lindsay Lohan and Samantha Ronson reportedly have visited the famous Westminster Synagogue, the officials of which are no stranger to providing marriage blessings for couples of mixed faiths.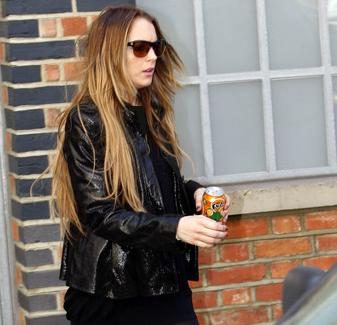 Alleged lesbian lovers Lindsay Lohan and Samantha Ronson have sparked rumors that they are getting married after they reportedly were seen paying a visit to the Westminster Synagogue famous for its liberal views on marriage which is located in London's exclusive Knightsbridge area, on Friday afternoon, February 27. While there is no record whether the pair has made their union official at the synagogue, it is a common knowledge that officials who work there often provide marriage blessings to couples of different faiths.
Lindsay and Samantha were photographed touching down at Heathrow International Airport on Thursday, February 26. They were there reportedly because Sam had a DJ gig.
Lindsay Lohan, who was raised a Catholic, and Samantha Ronson, who comes from a Jewish family, have been dating since 2008. They, nevertheless, never acknowledge the extent of their status. Rumors of them getting married have emerged for several times, yet none of them is proven true.
In the meantime, Lindsay is raising concern over her health as she has been photographed at many occasions displaying skinnier figure than the way she used to be.
Comments
comments