Republican presidential candidate John McCain and Democratic presidential hopeful Barack Obama, who shared good presidential debate, tentatively supported the $700 billion plan to bail out the U.S. financial system.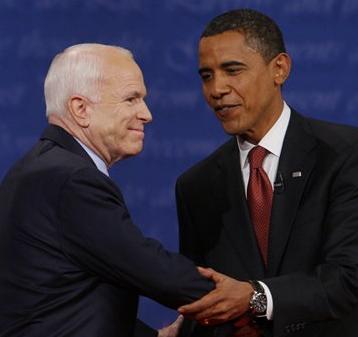 John McCain revealed: "This is something that all of us will swallow hard and go forward with. The option of doing nothing is simply not an acceptable option."
Barack Obama also revealed: "My inclination is to support it." Referring to the requirements needed to be in the package, the Illionis senator explained: "While I look forward to reviewing the language of the legislation, it appears that the tentative deal embraces these principles."
Congressional negotiators announced early on Sunday they had reached tentative agreement on a compromise deal that altered key parts of a Wall Street bailout program initially proposed by the Bush administration.
Both candidates refused to be pinned down on the economic plan during their first presidential debate on Friday. By Sunday, with a tentative deal in place, each gave general support with comments that the taxpayers had to be protected.
Later at a rally in Detroit, Obama called the bailout an "outrage," as he remarked: "But we have no choice. We must act now. Because now that we're in this situation, your jobs, your life savings and the stability of our entire economy are at risk."
Supporters tried to play up their candidate's roles.
Republican Sen. Lindsey Graham of South Carolina said Arizona Sen. McCain played a "decisive" role in getting balky House Republicans to focus on negotiating a compromise. McCain cut his campaign short last week to return to Washington to deal with the crisis at a White House meeting.
But Democratic Sen. John Kerry of Massachusetts told the same program it was Obama who took the lead at that meeting while McCain remained silent.
McCain resumed his campaign the next day so that he could attend the debate in Mississippi. Early same-night snap polls generally showed Obama winning the first of three encounters between the two nominees.
McCain tried to paint Obama as naive and too inexperienced to be president, a tactic Obama shrugged off as a "debating trick."
McCain has been criticized as condescending toward Obama and for refusing to look at his Democratic opponent during the debate.
McCain called the criticism "foolishness," as he explained: "I've been in many, many debates. And a lot of the times I don't look at my opponents because I'm focusing on the people and the American people that I'm talking to. That's what the debate's all about."
Comments
comments