Engaged to 35-year-old actor Brian Austin Green, Megan Fox considers guys in their 20s, like Robert Pattinson and Zac Efron, are "too pretty" and "immature".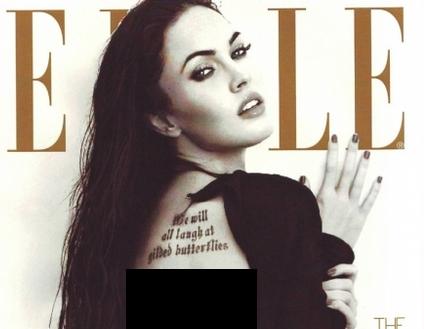 Making no secret about her love for older guys, Megan Fox tells ELLE magazine's June 2009 issue, which you could see her pictures here, she is not into ladies' men Robert Pattinson and Zac Efron because they are "too pretty" and "immature". Of what makes her think so, she explains, "Rob is, what, 22? Zac is 21? That's a joke ….. Boys in their 20s are a waste of time. They have nothing to offer conversationally. They're immature. I feel like I have a better shot with someone in his 30s."
"I've lived the life of a 35-year-old since I was 18," the 22-year-old screen siren continues. "I'm so suspicious of boys-slash-men. I just don't like them or trust them." She then goes on talking about the rumors emerged earlier this year of her having a brief fling with Robert, revealing "I just randomly asked someone for a light, and it was him. That was the extent of our relationship. But I'm sure there's going to be a different guy every week now."
Having been together with actor fiance Brian Austin Green for more than 4 years, Megan says "he's the one person" for her. "He's a man. He has an ego. He went through this already, and he doesn't want it back – it was horrible," Megan tells ELLE about the 35-year-old actor's journey in Hollywood entertainment industry, which becomes one thing that attracts her to him. "So he has sympathy. He's the one person that I know that if I'm struggling and everything's getting crazy, I can call."
Megan Fox's full interview can be read on ELLE's June 2009 "Body Issue," which has her being featured on the cover.
Comments
comments