Melissa Etheridge, who has released ten albums in her career, still had politics on her mind during a concert in Los Angeles Friday night.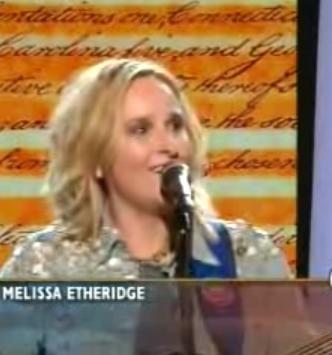 The singer and songwriter, who just two days after performing a medley of songs at the Democratic National Convention, revealed: "When I was there [at the DNC], I felt a great sense of hope. I felt a great sense of, finally, us coming together because it was people of all kinds there … I feel a huge change coming. I feel it."
The Grammy-winning singer expressed her support for Barack Obama throughout the night, though she never explicitly said his name. Wearing an Obama pin on her guitar strap, Melissa Etheridge got the crowd excited during the song "What Happens Tomorrow" when she changed the lyrics so they would highlight the Illinois senator.
Fans erupted in cheers and applause as she sang: "I believe a black man can work hard and succeed. And we could be content to believe that he can be in charge of the free. And be the president."
Another message she wanted to send to her audience, she urged the audience: "Call all your family to vote. It's the most important thing you can do this year."
The singer, who wraps up her Revival Tour on Sept. 9, was candid throughout her performance. In between songs she chatted about different points in her life – from finding love to her battle with breast cancer.
Melissa Etheridge, who was included in the list of celebrities that showed up in the recent "Stand Up to Cancer" charity event, also said: "Cancer's something that will stop you right in your tracks. It stops you and life is just like a wave … right over you. All those things that seemed so important, all those things you stressed about all day long, they just disappear and you're left with yourself and your love of life."
She added: "I want people to know that cancer's not the end … [it] can be a gift. Cancer can just be a little awakening."
Comments
comments