Was Michael Jackson up to the challenge of the massive comeback concerts he had planned for this summer?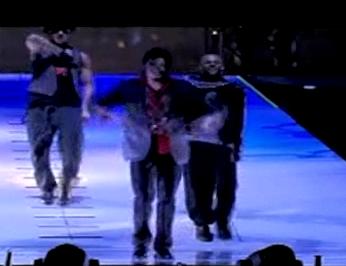 We'll never know the answer to that question for certain, but rehearsal footage exclusively obtained by CNN may help quiet some of the darker rumors floating around. The minute-and-a-half clip, taped at L.A.'s Staples Center on June 23 — just two days before Jackson's tragic passing. You could see the video here.
Jackson rehearsed at Staples Center two nights before he died, and he appeared healthy in a video clip of the rehearsal obtained by CNN. Jackson died June 25 after collapsing at his rented home in Los Angeles.
AEG, promoter of Jackson's planned London, England, shows, released the short video of Jackson rehearsing in the arena on June 23.
Jackson sang "They Don't Care About Us," a song from his "HIStory" album, as he danced along with eight male dancers.
It's hard to extrapolate any definite conclusions about his physical state from such a short clip, of course, but just watch the way he moves. It's all there: the fluid footwork, the ease of motion, everything that made him the transcendent showman he was throughout his life. The smile that creeps onto Michael's face at the very end of the clip, when he knows he's nailed that routine, is simply heartbreaking.