Rupert Grint, who plays Ron Weasley in the Harry Potter films, has admitted having a crush on his co-star Emma Watson.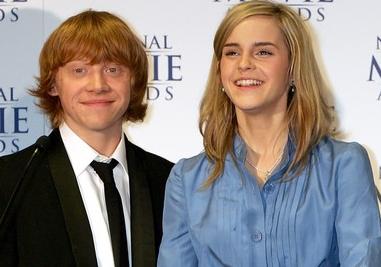 The multi-millionaire actor called the 19-year-old actress, who plays Hermione Granger, "a pretty girl" and said she was "popular with the cast".
In an interview with FHM, he hinted that both he and Daniel Radcliffe, who plays Harry Potter, had tried to win favour with Granger, but declined to comment on which of the two was more enamoured with her.
Mr Grint said: "A lot of people think there's something going on [between me and Emma Watson] because I have to kiss her on film soon."
He added: I'll be honest with you: it's not something I'd say I'm dreading. Emma's a pretty girl. Have Daniel or I ever hit on Emma? Well, she's quite popular with the cast. As for who has the worst crush on her – me or Radcliffe – I'd rather not say."
But Grint recently told the Mail on Sunday that his on-screen kiss with Miss Watson in Harry Potter and the Half Blood Prince had ween a "weird" experience.
"We've known each other for 10 years so it was a bit like kissing my sister," he said.
The 20-year-old, who suffers from severe arachnophobia, also spoke about the more "terrifying" aspects of fame.
"It's taken me years to get used to being recognized in the street," he said.
The most terrifying [thing] was when I saw a picture in a newspaper of a book-burning in America's Bible Belt. And there was a picture of my face smouldering on top of the pyre because they thought the Harry Potter films were endorsing witchcraft. That was when it hit me how big this thing had become."
But book burnings aside, international celebrity isn't without its perks. Grint earns £4m a film and has already left his handprints alongside Al Pacino's outside Grauman's Chinese Theatre in Hollywood. "There was a moment where I remember thinking, 'I have no idea what I'm going to do with all this money,'" he said.
Despite his growing riches, Grint hasn't adopted the typical celebrity lifestyle. Instead of the usual fleet of fast cars, he drives a dilapidated pickup truck, a working ice-cream van and a 60mph hovercraft.
Speaking about how his personal life has been affected by his fame, he admitted: "I know I could use my fame to meet women and I definitely notice a lot more attention when I go out because of it. But I'm still a bit careful. I don't want to meet a girl who's specifically trying to take advantage of that. And I try not to Google myself because I'd find the results too uncomfortable."
The full interview appears in the July 2009 edition of FHM Magazine.
Comments
comments