Admitting that she isn't a fan of Robert Pattinson, Miley Cyrus names Gerard Butler and Scarlett Johansson as her favorite Hollywood stars.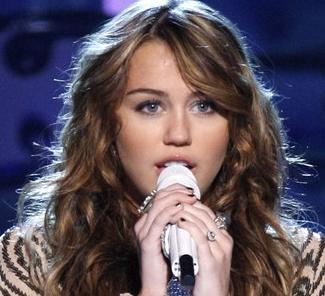 Unlike many other girls at her age who idolize Robert Pattinson, Miley Cyrus admits she isn't a fan of the British movie hunk. To the May 2009 issue of Teen Vogue magazine, she shares, "I'm not a huge Rob Pattinson fan. Girls aren't really in love with Rob; they're in love with Edward" when making a reference to his starring role as Edward Cullen in "Twilight."
The 16-year-old then names her favorite Hollywood actor, telling the print media, "You've seen him [Gerard Butler] in 'P.S., I Love You', right? My favorite." On watching his action in the drama-romance movie, Miley admits, "I bawled my eyes out." Also she opens up about becoming Scarlett Johansson's fan. "She is, honestly, the most beautiful girl I've ever seen. I went to 'He's Just Not That Into You'; with Justin [Gaston], and I was covering his eyes," she recalls.
Speaking about one of her best female friends Demi Lovato, Miley explains her commitment to not work together with her, saying: "Demi and I are the most alike; I'm anti-drama. I like to keep my friendship separate, otherwise, competition starts."
When asked whether she believes in love at first sight, Miley frankly revealed: "I believe in love at first sight. It just hasn't happened to me. I walked right by him [Justin, the first time she saw him]. Love doesn't come from attraction, but from somewhere deeper. [Justin] is my best friend."
Comments
comments