The youngest Jonas brother spent Tuesday lobbying Washington's power brokers on behalf of diabetes research — starting with the big guy, President Barack Obama.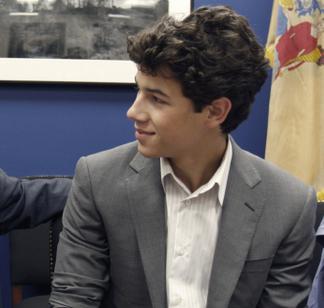 Clad in a white oxford shirt (no tie) and a gray blazer with the sleeves pushed up, Nick Jonas, 16, stopped by the White House for a photo with the president and children who are living with diabetes.
It was his second time at the White House this year. He and brothers Joe and Kevin hung out there with Obama's daughters, Malia and Sasha, on the night of Obama's inauguration.
After the White House, Jonas headed off to Capitol Hill for a private meeting at the office of Sen. Frank Lautenberg, D-N.J.
The teen idol and the senator made small talk about music while photographers snapped their pictures. Roughly a dozen Capitol Hill interns waited quietly across the hall from Lautenberg's office for a glimpse of Jonas — no loud outbursts or attempts to sneak around security.
"I know some people can become star-struck and lose sight of what they're here for, but if Nick Jonas makes juvenile diabetes a cause that people are more aware of, it's worth it," said Ashley Woolos, an American University student and intern in the office of Rep. Richard Neal, D-Mass. "A younger face might bring younger fans and the fact that juvenile diabetes is not just an older persons' disease."
Nick Jonas publicly revealed that he has Type 1 diabetes while performing at a Diabetes Research Institute fundraiser in 2007. He is scheduled to testify on Wednesday before a Senate Homeland Security and Government Affairs Committee hearing on federal funding for diabetes research. Other witnesses include boxer Sugar Ray Leonard and actress Mary Tyler Moore.
The Jonas Bothers created the Change for the Children Foundation, which donates money to charities benefiting children who are disadvantaged or ill. They released their fourth CD, "Lines, Vines, and Trying Times," last week.
Meanwhile, wearing in plaid shorts, Nick Jonas and pop Paul make their way into a car after landing at Dulle airport on Tuesday morning (June 23) in Chantilly, Virginia.
Later in the day, Nick will be meeting with Sen. Frank Lautenberg, where he is set to discuss juvenile diabetes and the organization he started that raises money for the disease. Nick will address the Senate Committee on Homeland Security and Governmental Affairs on the same issue on June 24.