Joss Stone, the English soul singer, was rumored to be the latest object of Prince William's affection, however before she has had time to get used to the idea of 'Princess Joss,' her representatives have denied any possible romance.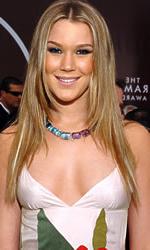 Prince William is merely in contact with Joss to discuss her song choices for the Princess Diana tribute concert.
Dave Woolf, the singer's representative, revealed, "They talked about what songs she is going to sing at the concert and that gets translated into a story about how William has been bombarding her with calls."
Prince William recently ended his serious relationship with English commoner Kate Middleton.
The representative also revealed that Joss Stone is also looking at the relationship in a professional light. The representative added, "She is really pleased to be involved in the event and was anxious that she do something that would have meant something to the princess as opposed to singing any old three songs. She wanted to get direct input about what they wanted her to do."
Comments
comments